Over-the-counter (OTC) benefit card – 2022
The OTC plus Card, with a new design for 2022, is a benefit you can use to purchase covered non-prescription health items like allergy medicine, cough drops, sleep aids and much more. You can also use your card to buy eligible healthy food items like dairy products, meats and more. Over 90,000 items are covered!
How do I get my card? Once you become a member, we will send you a card in the mail with money pre-loaded on it. At the beginning of each calendar quarter (January 1, April 1, July 1 and October 1), more money will automatically be added to the same card. Any money left on your card at the end of each quarter will expire. It does not carry over to the next quarter.
New for 2022: Earn rewards for completing healthy activities. Now you can earn rewards on your OTC plus Card just for making time for your health. Simply complete eligible healthy activities like an annual wellness visit, certain screenings or participating in a qualifying health program. Rewards you earn will be automatically added to your OTC plus Card, with no forms to fill out.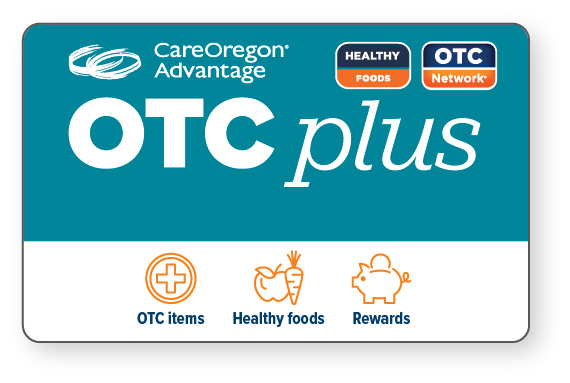 To check your balance or transaction history, call 888-682-2400 or TTY 711, or visit otcmember.com.

To find a searchable list of eligible health items and healthy foods, visit otcmember.com. There you can search for items by product category, manufacturer and product name.




If you have other questions about this benefit, including what types of items your OTC plus Card covers and how to earn rewards, take a look at our OTC plus Card handout (English, Spanish, Russian, Vietnamese, Chinese), or visit the Frequently Asked OTC Card Questions page of this website.
For member service questions
, call CareOregon Advantage Customer Service at 888-712-3258 or TTY 711. You can also send us a secure message through our
member portal
.
The Part B Premium is paid for members with full Medicaid benefits.
Page last updated: October 1, 2021

H5859_4006_2022_M